My later friendship with Siegfried Fink and his students did of course inspire many works. I became something of an expert, had many pieces played to me and could thus develop a sound style of my own.

Bertold Hummel, January 1998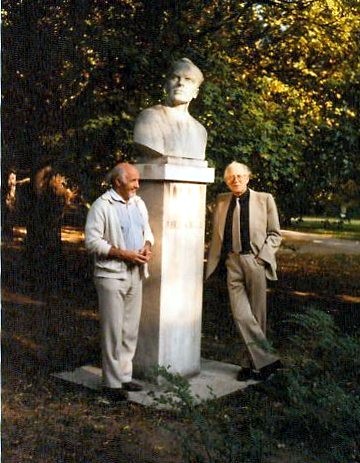 Siegfried Fink and Bertold Hummel with Bela Bartók
Budapest, October 1986
SIEGFRIED FINK
By Mark Andreas Giesecke
Siegfried Fink was born 1928 in Zerbst/Anhalt (East Germany) and studied percussion and timpani as well as composition at the Music University "Franz Liszt" in Weimar. When people in the German Democratic Republic called his music, which was partly influenced by jazz, "decadent," and when they wanted to force him to obey the official GDR guidelines, he fled Communism with his wife Traudel and little daughter Cornelia to West Germany, where he became a "Nestor" of solo and ensemble percussion.
After 17 years of solo and orchestral work, he became teacher, later professor and head of the percussion department at the University of Music in Wuerzburg (West Germany).
Siegfried Fink founded many percussion series in many different European music publishing houses, such as Schott, Benjamin, Zimmermann, Wrede, Heinrichshofen, Vogt & Fritz, Boosey & Hawkes, and Leduc, and he grew to be one of the most often published percussionists in the world.
Among his publications one can find more than 150 compositions for percussion instruments as well as chamber music, music for ballet, movies, TV, method books for all percussion instruments, and many editions of works by other authors, such as Keiko Abe's "Dream of the Cherry Blossoms" (Zimmermann).
Fink has made a big impact on the percussion pedagogy in Germany. Among many other activities, he made possible the inclusion of percussion instruments as solo instrument in the All-German contests "Jugend musiziert" and "German Music Competition." The "Curriculum Percussion Instruments" of the German Association of Music Schools (VdM) by a committee chaired by Fink in 1977 proved to be an important aid for argumentation of percussion teachers in their construction of percussion departments that wanted to offer more than only a background role of drumset playing, but also solo and ensemble work with marimba, vibraphone, drumset, pedal timpani, avant-garde setups, concert xylophone, concert glockenspiel, gongs, tam-tams, Latin percussion, African percussion, and Brazilian percussion.
Fink has been an adjudicator for numerous competitions in Spain, Luxembourg, Bulgaria, Russia, Switzerland, ARD competition in Munich, and many others. He has been percussion adviser for the Philharmonic of Nations and for the Institute for Talent Research and Talent Support in Music, and is the author of all articles on percussion instruments in the most important German language dictionaries and handbooks, such as Handbook of Music Pedagogy, Dictionary of Music, and The Music School, and he has created excellent public relations for percussion with radio and TV broadcasts.
Fink produced numerous LPs and CDs as composer, conductor of ensembles, and mentor for his students, and he has been guest soloist in Africa, the Americas, Asia, and the whole of Europe. He gave seminars and master classes in Egypt, Brazil, Bulgaria, England, France, Holland, Hong Kong, Italy, Japan, Yugoslavia, Korea, Luxembourg, Austria, Poland, Portugal, Sweden, Switzerland, Spain, South Africa, Turkey, Hungary, and the USA. Among the recording labels he worked with are Audio, Audite, BASF, Balkanton, Calig, Cantate, Deutsche Grammophon, Edigsa, Gallo, Koch/Schwann, Thorofon, and Wergo.
Under his leadership, Wuerzburg became a focal point for percussionists from all over the world. Many of his former students became internationally renowned solo percussionists, like Prof. Dr. Peter Sadlo (Munich and Salzburg), Prof. Dr. Ney Gabriel Rosauro (University of Miami), Timothy White (Perth, Australia), Prof. Paul Mootz (Luxembourg), Carlos Voss (Portugal), Prof. Mark Christopher Lutz (USA), Prof. Xavier Joaquin (Espagna), Prof. Gyula Racz (Hungary), Mark Glentworth (England), Wessela Kostowa (Bulgaria and Germany), Cornelis Teeling (Holland), Wladimir Sigariev (Russia), Vassili Daramaras (Greece), Severin Balzer (Switzerland), Pablo Ballester (PAS Spain chapter president), the Percussion Art Quartet (Stefan Eblenkamp, Anno Kesting, Gergana Fasseva, Markus Verna), the Tri Percussion Ensemble (Prof. Thomas Keemss, Guenter Kamp, Guenter Peppel), the Germans Andrea and Wolfgang Schneider, Hermann Schwander, Martin Amthor, Joachim Sponsel, Bernd Kremling, Michael Ort, Rainer Roemer, Axel Fries, Martin Maria Krueger (president of the German Music Council), Matthias Schmitt, Thomas Hupp, Jeff Beer, the PAS composition contest winners Leander Kaiser and Eckhard Kopetzki, and the author of this article, among many others.
Many of Fink's students have won national and international competitions, like the ARD competition in Munich 1985 (first and two third prizes; a second prize was not awarded), Barcelona, Geneve, Luxembourg, and Radio France Paris.
Fink was honored for his artistic and pedagogical work with 30 national and international prizes, among them the Culture Prize of the City of Wuerzburg, the Honorary Diplomas of the University of Music in Barcelona/Spain and of the State Academy of Music in Sofia/Bulgaria, the Prize of the Critics in Madrid/Spain, First Prize at the Festival for Short Movies in Oberhausen, the Bundesverdienstkreuz am Bande (highest ranking State Order of Germany), as well as with the Honorary Doctorate of the State Academy of Music in Sofia/Bulgaria, and the 2002 PAS Lifetime Achievement in Education award.
Throughout his career, Fink gave about 500 concerts, among them premieres of about 300 new works. Many of his own works had a pioneering function, such as the "Trommel-Suite" (for solo snare drum), the "Darabukka Suite" (for solo darabukka), and "Conga Negro" (solo conga), in which Fink exploited the sound possibilities of these instruments as solo instruments. Very interesting, too, is the through-composed polymetria in "Metallophonie." Fink's compendium Schlagzeug -- mein Hobby (Percussion -- My Hobby), has been translated into English, French, Spanish, Arabian, and Japanese.
With the Tabulatur 72 (in 1972), updated as the Tabulatur 2000 (in 2000), Fink suggested pictograms for all of the percussion instruments and mallets, in order to facilitate and standardize the percussion notation communication between composers and players, and in order to facilitate changes of instruments and/or mallets for the performer. Many composers and publishers already use these pictograms in their editions.
Fink's Studies for Snare Drum in six volumes (Simrock) is one of the most popular methods for snare drum in Europe. Fink systematically acquainted the readers with all time signatures, including meter changes, accent patterns, grace notes, and rolls, including all the different types of roll notation and their respective, exact meanings. With the Solo Book for Snare Drum/Solo Book for Timpani (Benjamin), Fink provided the student with musical pieces for contests, exams, and recitals.
In the "Suite for Solo Snare Drum" (Zimmermann), Fink was the first composer to make use of 17 different sound shapes this instrument is capable of, and he put these in a highly satisfying musical environment, including through-composed as well as aleatoric parts and playing demands. This piece is one of the most often played contest solos for snare drum. Works by Fink can also be found in The Noble Snare collections, edited by Stuart Saunders Smith.
With the Studies for Timpani (Benjamin) in three volumes, Fink transferred the successful method for snare drum to timpani, but with the addition of explaining texts (all texts in German and English).
As a composer Fink was often inspired by impressions from his many travels around the world. A most fascinating, difficult-to-play, and beautiful piece is "Batu Ferringhi" (Zimmermann) for marimba solo, in which he dedicated each of the five movements to a different character of the famous Indian saga and silhouette theater: Rawana, Hanuman, Sita, Laksama, and Rama.
The first published composition by Siegfried Fink was his "Concertino for Vibraphone and String Orchestra" (dedicated to Milt Jackson). One of his most recent works is the "Concert for Percussion and Orchestra," which he wrote for the designated professor of percussion at the State University of Music in Beijing/China, Li Biao, who has already played the piece in concert, both in Japan and China.
The contributions of Fink to the art of percussion are manifold and include successful work in almost all possible areas: displaying, composing, arranging, teaching, conducting of ensembles, editing, founding (ensembles, contests, festivals), percussion related music journalism, writing of books, and being mentor for the younger players.
The catalog of percussion compositions compiled by Prof. Thomas Siwe, available online to PAS members, includes 142 compositions by Siegfried Fink. Ensemble conductors and percussion instructors are able to find ample material there for all possible recital, contest, examination, and concert purposes.
On behalf of the German PAS members, I congratulate Prof. Dr. Fink for his election to the prestigious PAS Hall of Fame. Siegfried Fink, who celebrated his 75th birthday this spring, is the first German to be honored in this way.
Mark Andreas Giesecke holds both BM and MM degress from the State University of Music in Wuerzburg, where he studied percussion with Prof. Siegfried Fink. Being a general percussionist, he is internationally most reknowned as vibraphonist with the Kostowa-Giesecke-Duo. His compositions are published in Germany, Austria, Switzerland, the Netherlands, the UK and the USA. He co-authored the Compendium of the 4-Mallet Techniques and the 6-Mallet Compendium, and is author of the best-selling German book on proper practicing and rehearsing, Clever ueben, sinnvoll proben, erfolgreich vorspielen. Giesecke has served as Germany PAS chapter president since 1997.
Siegfried Fink died on May 3, 2006 in Würzburg


Siegfried Fink :
"Sound and Timing" - Bertold Hummels Werke für Schlaginstrumente (in Komponisten in Bayern: BERTOLD HUMMEL )