I have written Sonatinas or solo pieces for almost every orchestral instrument, keeping my aim above all on "the young player". Music for amateurs possesses for me a great pedagogical value. These are the listeners of tomorrow. Here I follow the tradition of Hindemith and Genzmer.

January 1998
Bertold Hummel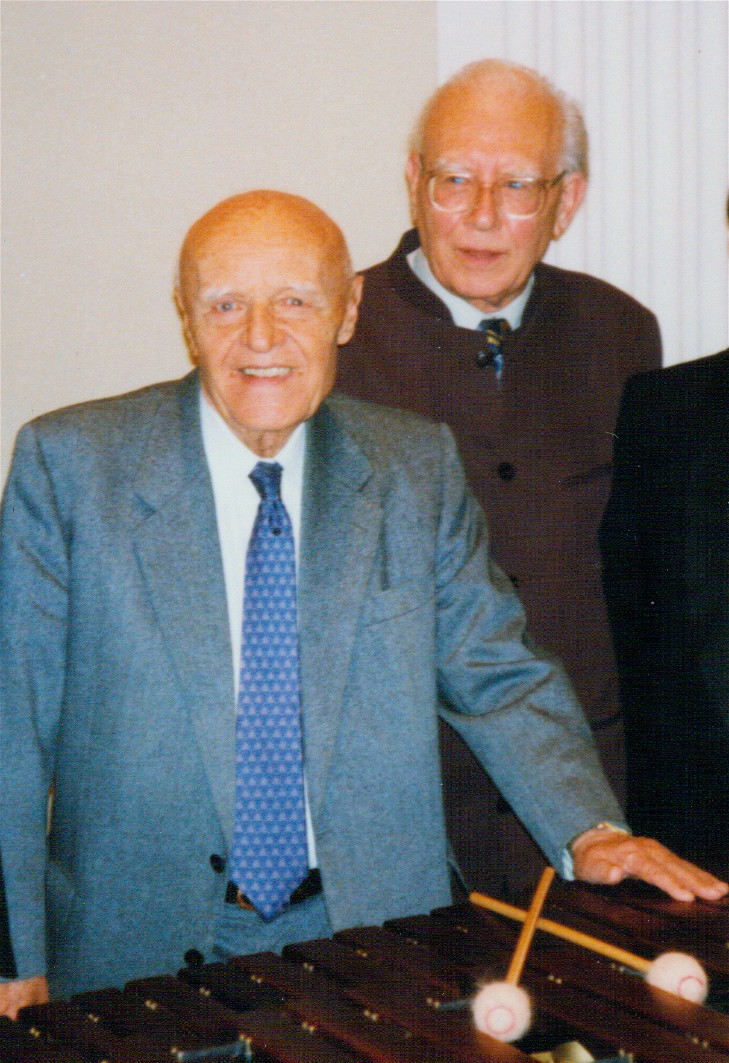 Harald Genzmer und Bertold Hummel 1998
Harald Genzmer was born in Blumenthal near Bremen on 9 February 1909. In 1928 he began to study at the Berlin Hochschule für Music with Paul Hindemith (composition, until 1934), Rudolf Schmidt (piano), Alfred Richter (clarinet) and Curt Sachs (musicology). From 1934 to 1937 he worked as a repetiteur, later as assistant conductor at the Breslau Opera House. In 1938 he began to teach at the Volksmusikschule Berlin-Neukölln, where also Hindemith had been teaching before. In the 1940's, he experimented with electronic instruments and devoted himself particularly to the "Trautonium" (an electronic instrument invented by Friedrich Trautwein). He passed his military service as a clarinet-player in a music corps and, after the Second World War, in 1946, was appointed professor of composition and assistant director at the new Musikhochschule of Freiburg, then, from 1957 to 1974, at the Munich Hochschule für Musik. In Munich Genzmer has been leading the department of music of the Bavarian Academy of Fine Arts for ten years. He also became a member of the Academy of Fine Arts in Berlin and held important positions in many cultural political organisations like the GEMA. In recognition for his outstanding services as a composer and teacher, he was awarded a.o. the Gold Medal of the Bavarian Constitution (1998), the Arts Price by the Bayerische Landesstiftung (1996) and the Maximilian Order, the most distinguished Bavarian Cultural Award, in 1991. His works include all genres, with exception of opera. Among his numerous orchestral, chamber music and choral works are also many educational compositions.