Saxophonia for Saxophone Ensemble op. 103a (1998)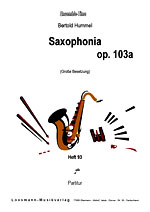 Beginning of Saxophonia

First performance: December 14, 1998, Munich, Sophiensaal
Süddeutsches Saxophon-Orchester / Linda Bangs-Urban

Big Instrumentation:
2 Soprano-Sax., 8 Alto-Sax., 5 Tenor-Sax., 3 Baritone-Sax., 2 Bass-Sax., 2 Percussionists
Reduced Instrumentation:
2 Soprano-Sax., 6 Alto-Sax., 3 Tenor-Sax., 2 Baritone-Sax., 2 Bass-Sax., 2 Percussionists
Duration: 8 Minutes
Publisher: Loosmann B0176

MELISMA Opus 7195-2 + SIGNUM, SIG X123-00
Saxophonia Op. 103a was inspired by and is dedicated to Linda Bangs. The work is scored for Saxophone orchestra and 2 percussionists, who have a cadenza to perform in the second part of the piece, giving the work its clear structure.
In addition to several returning symphonic passages, the work includes dance-like fragments, reminiscent of jazz. Tutti passages are alternated with concertante episodes in which the individual instrument groups are highlighted.
The general impression: "schwungvoll und heiter!" - joyful & with energy.
Bertold Hummel