Kaleidoscope for Strings, op. 104 (1999)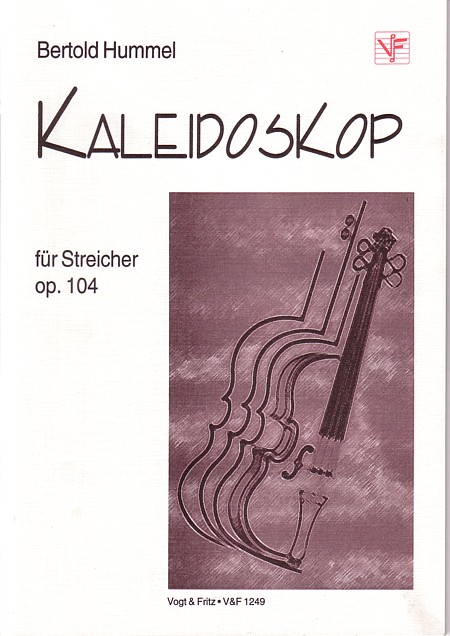 II. Allegro ma non troppo

III. Sostenuto

V. Passacaglia

VI. Chorale

VII. Presto
First performance : November 15, 1999, Werneck
Kammerorchester Schloss Werneck / Ulf Klausenitzer

Duration: 14 Minutes
Publisher: Vogt & Fritz (Score and parts are available for purchase!)
Late corrections by the composer to the edition published by Vogt und Fritz:
IV: Tempo di Tango:
bar 16-23: Violin 1-8: arco; from bar 24 pizz. again.
bar 28-35: Viola, Violoncello, Double Bass: arco; from bar 38 pizz. again.
bar 45+47: Violin 5-8: arco (not pizz.)
V. Passacaglia:
bar 1-3: Violin 1-3 and 5-7, Viola: con sordino
VII. Presto-Finale
bar 40: ritardando

| | | | | | | |
| --- | --- | --- | --- | --- | --- | --- |
| | | | | | | |
| I. | II. | III. | IV. | V. | VI. | VII. |
In 7 movements, an attempt is made to convert the title into musical structures.
Mvt. 1) Adagio: a gradually constructed 12-part chord, heard again at the end of the movement a third higher, is the frame in which layers of sound are restructured within the narrowest of spaces.
Mvt. 2) Allegro ma non troppo: a G major chord (in second inversion) is present throughout this somewhat burlesque movement and is commented on rhythmically and harmonically by extraneous sounds and clouding.
Mvt. 3) Sostenuto: a "symphonic" gesture undergoes a short development, but loses its way more and more in the course of the movement.
Mvt. 4) Tempo di Tango: rhythmical pizzicati and percussive effects are interrupted twice by lively tango episodes and are led to a surprising ending.
Mvt. 5) In the Passacaglia is the most obvious realisation of the title: endless variations over a constant series of notes.
Mvt. 6) Chorale: different rhythmical transparencies run alongside each other; at the same time, a chorale-like gesture is heard five times.
Mvt. 7) Presto: a restless, chromatic 4-note series dominates the final movement, interrupted twice by a lyrical insertion.
The work was a commission by the Kammerorchester (Chamber Orchestra) Schloss Werneck in 1999.
Bertold Hummel