Sonata brevis for Violoncello and Piano, op. 11a (1955)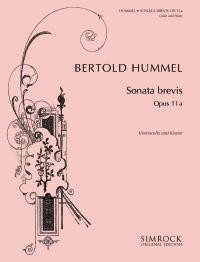 I. Allegro

beginning
II. Sostenuto
III. Presto
First Performance: June 21,1955 Cape Town (South Arfrica), Hidding Hall
Bertold Hummel / Virginia Fortescue

Duration: 13 Minutes
Publisher: N. Simrock Hamburg-London (Boosey & Hawkes) EE 3338 / ISMN M-2211-2078-6
Introduction (Simrock EE 3338, 2006)

Bertold Hummel wrote his Sonata brevis while extensively touring South Africa in the spring of 1955. The dates written on the manuscripts of the individual movements allow us to track the route he took through present-day Namibia and South Africa in the Company of a small German music and theatre ensemble. According to these sources, the composer and cellist, then aged 30, wrote the first movement with its powerful subject in Windhoek while the spaciously unfolding cantilena of the Sostenuto was written in Omaruru and the Presto of the closing movement, in 7/4 metre, in the capital Pretoria. The Sonata brevis was premiered in a chamber concert at Cape Town university.
Ever since its first publication by Simrock in 1969, this lively work has been a success with performers and listeners and will make for many future performances thanks to this carefully revised new edition.

Martin Hummel
The Sonata Brevis was written while on a concert tour of South Africa with a trio in 1955. This work would have to wait until 1969 to be published, as Hummel did not have a publisher before this. Only the third movement, in seven, would seem to reflect the kind of cheerfulness one would associate with a young man embarking upon such an adventure with his new bride. Shorter passages in five add an improvisatory quality. The second movement, by contrast, has a beautiful but hauntingly sad melody. The closing sequence of double stops is a device the composer also uses in the closing of a Fantasia for cello solo dedicated to his son. The most intense and contrapunctal of the three movements is the first, the principal theme reappearing in close succession' in diminution and augmentation, to then yield to a more placid middle section before returning for the close.
His three-movement

Sonata brevis

is concisely crafted, its finale recalling previous motifs to provide overall unity.
The Cambridge Companion to the Cello; edited by Robin Stowell
Created in 1955, this piece, like the Cello Sonata Op. 2 composed a few years earlier, shows Bertold Hummel's familiarity with 'his' instrument which he studied with Atis Teichmanis. The entire work is pervaded by his delight in playing and a comprehensible melody; in particular, the brilliant final movement in 7/4 time leaves a strong mark. The newly set and carefully revised new edition will be an interesting addition to the repertoire of young cellists.
(News 2007 Boosey & Hawkes / Schott)