Tripartita for Organ, op. 12 (1955)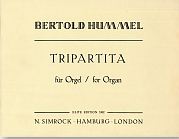 I. Ostinato


II. Fantasia


Duration: 11 Minutes

Publisher: N. Simrock Hamburg-London (Boosey & Hawkes) ISMN M-2211-1335-1


Errata:

1st movement: quarter note = 152



M7 records 8.10505
Tripartita, op. 12 was written between 1st and 10th October, 1955. Three movements - schnell-langsam-schnell - , based on variable metre as a constructional principle. In the 1st movement, block-like structures dominate, arioso elements with short motifs dominate the 2nd movement. The almost completely unisono, toccata-like finale rounds the work off with a virtuoso flourish.
Bertold Hummel
Bertold Hummel composed the Tripartita for Organ in 1955. It consists of three movements: Ostinato, Fantasia and Toccata.
The first movement is based not only on a melodic motif, developed out of a seminal cell of two notes and constantly repeated, but also on a series of metrical units, 3/4 - 5/4 - 7/4, which remain in this order from beginning to end (double Ostinato).
In the Fantasia, the peaceful second movement, three differently structured stanzas frame a meditative melody.
The life in the virtuoso Toccata comes from the rapid note repetitions, only performable on an outstanding organ. Characteristic of this section are the bar lengths, shortening and then lengthening successively by one beat at a time - clearly audible in the pedal motif.

Josef Trompke


Larry D. Crummer: The Solo Organ Works by Bertold Hummel, Dissertation 1983
Press

Musik und Kirche, Jan/Feb, 1958 Vol. 1

The very compact "Tripartita" has a lively opening with a harmonically-based idea, spread out syllabically, interrupted by rests, over a markedly leading pedal. The means of formal construction is the linear bass; this adds to a triad motif further intervals, so that the planned total range of intervals is achieved after twenty-one bars. Boris Blacher's variable metre technique comes to mind. The slow middle movement consists of a combination of threefold thematic material. If in the opening harmonic colour prevailed, then it is now above all the sumptuously-delineated melodic contour which dominates. With multifarious substitutions and inversions, constantly new perspectives of the same idea are revealed. The third movement is conceived as fast passage-work with repeated notes and octave displacements on the manuals, maintained unisono throughout except for the close. This new work is captivating in its unsulliedly fresh power of invention. The formal principles are thoroughly individual and use no worn-out standard patterns; effects in sonority, sometimes extremely astringent, are applied with such economy that one immediately believes on first hearing in their musical necessity.
H.L. Schilling