String-Trio in E
for Violin, Viola and Violoncello op. 1b
(1948)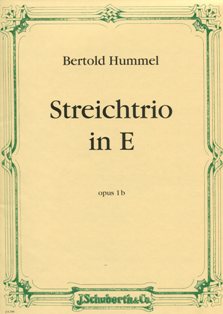 I. schwungvoll, bewegt
II. langsam, fließend
Première: February 24, 1950, Freiburg, University
Marianne Schmidt / Edith Klein / Bertold Hummel
Duration: 11 Minutes
Publisher: Schott Music ED 20293 / ISMN: M-001-14998-3
Video: Works by Hummel on youtube
Anyone digging around in the unpublished works of great composers finds now and again a "sin of his youth" - on the condition that the composer has not carefully destroyed all traces of anything not considered worth giving an opus number to. Not so in the case of Bertold Hummel, who in the 90's released a manuscript for publication which he had written as a twenty-two year old and which earns him a certificate of mastery even for his early years. With the String Trio, op. 1b, from the year 1948, Hummel shows himself to be an experienced chamber musician who can provide energetic material for exuberant playing. If one takes a moment to review the musical history of the post-war years, many works strike one as having been "produced" with remarkable earnestness and worthiness. The "reconstruction" mentality of those years comes involuntarily to mind. In this case, however, the young composer, newly returned from prisoner-of-war camp, feels free: with energetic motion, the violin introduces a theme of non-periodic construction, permeated with changes of time-signature, which has the function of material for a sonata-form movement showing the handwriting of a playfully inclined calculator. The toccata-like finale with polymetric structures is fully in the sense of Stravinsky and Blacher.

Klaus Hinrich Stahmer (in: Die Kammermusik als persönliches Bekenntnis", Tutzing 1998)
Press
Badische Zeitung, 13th July, 1950

This meeting with the young Bertold Hummel reveals him as a strong compositional talent; his String trio in E, in three movements, received its public première this evening and was more than just a test of talent. Although the Genzmer pupil in one or two details cannot conceal the influence of Hindemith, he has however succeeded on the basis of genuine impulses in achieving individuality, for example in the sharp supporting sounds for the extensive cello cantilena in the slow middle movement or in the pregnant rhythms of the final movement. The magnificently energetic piece is a joy to play and deserved, with the composer as the fiery leading musician on the cello with Marianne Schmidt (violin) and Edith Klein (viola), its heartily decisive success.
Badische Zeitung, 24th July, 1950

The String trio in E by Bertold Hummel revealed a musician who understands the art of conducting a musical conversation, alive with genuine fire of the spirit; a composition based on a solid foundation of craftsmanship, with tautly drawn-out tension, occasionally somewhat brusque in its statements but certainly quite unconventional and free from cheap effects.