Quintet for Flute, Oboe, Clarinet, Horn and Bassoon, op. 22 (1961/62)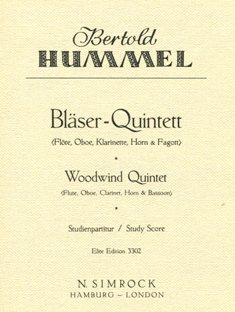 I. Rubato
II. Lamentation
III. Burlesque

beginning

First performance : February 7, 1962, Freiburg, Theatersaal der Alten Universität
Gesa Maatz / Günter Theis / Wolfgang Sang / Johannes Wehmann / Matthias Scholz
Duration: 12 Minutes
Publisher: N. Simrock Hamburg-London (Boosey & Hawkes) (Boosey & Hawkes)
Pocket score : ISMN M-2211-1289-7
parts: ISMN M-2211-1225-5
Video: Works by Hummel on youtube

The Wind Quintet, op. 22, in three movements, opens with a Rubato, in which the unpredictable course of developments can most easily be read in the continual changes of time signature. Time and again, the five individual wind instruments release themselves from the tutti blocks to perform rhapsodic solo lines of ingratiating melody. This kind of dialectic tension between the collective and the individual is continued in the second movement, a Lamentation of impressive effect, concluding with an open gesture making way for a Burlesque, in which the giggling, scurrilous, argumentative qualities of the wind instruments have an opportunity to show themselves.
Klaus Hinrich Stahmer (in "Kammermusik als persönliches Bekenntnis" Tutzing 1998)
Press
Badische Zeitung, 1962
Hummel has - again or still - the courage to make a personal statement, and he is right in doing this at a time in which music has already begun to lose its recognisability. With a noble sense of sonority, yes, with sensibility, his wind players combine in a quintet which does not conceal its classical scheme - with the exception of the concluding "Burlesque", which has a twelve-tone appearance. Heard in the context of the complete work, if the ear is not mistaken, this could perhaps be intended as a parody - which would also be a positive point!

See also: Intermezzo for Woodwinds