Episodes for large orchestra, op. 23b (1962)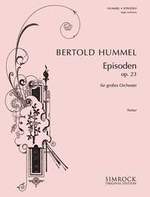 I. Introduction - Adagio
III. quasi Cadenza - Presto piu mosso
IV. Conclusion
Instrumentation: 3.3.3.3-4.3.2.1-Timp., Perc. Hrp., Strings
Duration: 13 Minutes
Publisher: N. Simrock Berlin-London (Boosey & Hawkes)
Score EE 5331/ ISMN M-2211-2122-6
Video: Works by Hummel on youtube
Episodes for large Orchestra was written in 1962 as a commission for the Oldenburg Staatstheater and was premiered there as a ballet (Pas de deux).
The work combines characteristic dance scenes in the following sequence: Introduction-Adagio, Allegro, Cadenza-Allegro molto and Conclusion.
A seven-tone sequence (modus) of all the semitones within the tritone interval c - f-sharp dominates the whole work and gives rise through the different movements to the necessity of a multiplicity of variations on the basic material.

Bertold Hummel