Fantasy for Organ, op. 25 (1963)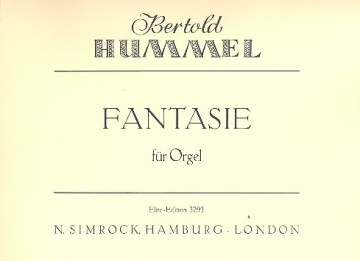 Introduction - Passacaglia - Arioso

Duration: 14 Minutes
Publisher: N. Simrock Hamburg-London (Boosey & Hawkes) ISMN: 9790221112804
| | | |
| --- | --- | --- |
| | | |
| Introduktion | Passacaglia | Arioso |

Larry D. Crummer: The Solo Organ Works by Bertold Hummel, Dissertation 1983
Press

Die Welt, Hamburg, 20th November, 1964

A thoroughly fantastic atmosphere dominates, half visionary with bated breath, half disturbed and excited. This fantasy is the source of the power and fascination of the work.
Fränkisches Volksblatt, 19th November, 1970

It was a different matter with the central work of the evening, the Fantasy for Organ by Bertold Hummel. The piece provides not only an enrichment and a complement to the German or indeed to the international organ repertoire, but is nothing less than a new discovery. Hummel' style is independent. Even if his Fantasy would have benefited from a larger organ and room from the point of view of sonority, it was nevertheless clear, precisely in this church, how much logic and feel for interrelationships of motifs and themes, how much understanding for attractive effects in rhythm and sonority is contained in Hummel's art. It is in no way a collection of cheap effects or technical games, but the rather the intellectual and musical achievement of an artist who is not only master of his métier in every detail, but also a practising musician who listens to the inner, in his case unerring, voice which dictates inspiration all the way to the tip of the pen. The Fantasy is subdivided into Introduction - Passacaglia and Arioso. Each of these independent parts contains references to a musical germ cell, from which the work grows in an organic unity. Hummel's principle is here remarkable and astonishing. Thus we find a germ cell for example already in the second bar in the bass line of the Introduction. The theme of the Passacaglia is formed out of this, the variants of the Passacaglia undergo intensifications of dynamics and motion, following tonally in the course of the movement the scheme of the circle of fifths. The Arioso makes use in its theme of the intervals of exactly the same germ cell. Polytonality, inversion, crab - these are some more of the features that go to make the work extremely attractive not only as a audible impression but also as an example of compositional technique.