Introduction, Arioso and Fugue for Organ, op. 4 (1952)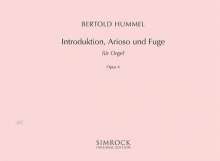 Première: August 16, 1953, Hamburg-Altona, St. Johanniskirche
Dieter Weiss

Duration: 16 Minutes
Publisher: Simrock (Boosey & Hawkes) EE 5343 / ISMN 979-2211-5343-2
It has to be played virtuosically. 1. Introduction (loud and rhythmical) 2. Arioso 2 lines over a chromatic bass (hope you can see how it's done), slow, and exact in rhythm. 3. Fuge (not too slow) not academically, please!
Bertold Hummel (letter on 13th Nov. 1952 to the organist for the première.)

Preface

(Simrock EE 5343)

Bertold Hummel's op. 4 was composed in 1952 and premiered on 16 August 1953 by Dieter Weiss in the St. Johanniskirche in Hamburg-Altona on the occasion of the
German Protestant Church Congress.
The work proves to be a homage to J. S. Bach, and with its order of movements is reminiscent of the

Toccata, Adagio, and Fugue in C Major (BWV 564)

.
In terms of its gestures, the festive

Introduction

refers to Bach's

G-Minor Fantasia (BWV542)

. A chordal auxiliary-note motif alternates with recitative-like triplet runs. Both basic motifs are developed in diverse ways, including canonically.
The

Arioso

, which was later used as the middle movement of the

Dialogue for violin and organ, op.63

(1977), also takes recourse to Bach's idiom: above a basso ostinato, which clearly alludes to the famous

Air on the G String from the Third Orchestral Suite (BWV 1068)

, two richly ornamented, polyphonic solo voices are heard.
The elaborate

Fugue

, finally, makes use of various contrapuntal techniques: stretto at different intervals, inversion and augmentation of the theme, and also a second counter subject is introduced. The piece concludes with the simultaneous sounding of the theme in its original form and in its inversion.
Christoph Weinhart, 2009



Larry D. Crummer: The Solo Organ Works by Bertold Hummel, Dissertation 1983
Press

Westdeutsche Zeitung, Kempen, 7th December, 1953

Dieter Weiß opened with the work he himself had premièred at the Lutheran Conference in Hamburg, the Introduction, Arioso and Fugue by the not yet 30 year old Bertold Hummel. Monumentally massive atonal chord sequences in the Introduction, a linear and lyrical Arioso and an exceptionally inventive Fugue, performed with consummate artistry, rendered this work of a modern young composer, even on this small organ, convincingly and impressively accessible to the listeners.