Yume I-IV for Solo Flute and Flute Sounds (CD) (1971)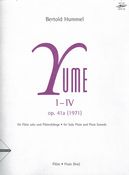 II.
III.
IV.
First performance: May 11, 1971, Würzburg, Bayerisches Staatskonservatorium für Musik
Werner Berndsen




American first performance: August 17, 1996, New York, Marriott Marquis
Dennette Derby-McDermott






Duration: 11 Minutes

Publisher: Schott Music ADV 8501 / ISMN: 979-0-2063-0209-1 (Score with CD)
In the

Newly-Published Music Competition 1996

of the

National Flute Association

, the edition was awarded 1st prize.


The performance CD contains manipulated flute sounds and a complete listening version.
Video: Works by Hummel on youtube
The work Yume I-IV, composed in 1971 at the instigation of my colleague Werner Berndsen, took its title from the Japanese word "Yume", meaning "Dreams".
In four sections, the "live" solo flute hears a tape which contains sounds, melodies, rhythms and noises produced only by instruments of the flute family (piccolo, great flute, alto flute). These taped events are however transmuted by all kinds of manipulation such as double and half speed, backwards play, echo effects, etc.
Yume I - The melodic shapes played by the live solo flute - accompanied by gong-like sounds - weave more and more closely together into a cadenza, the tension then being released again towards the end.
Yume II - relentless series of movements lead to a "manikin" impression - pleasurable rather than threatening.
Yume III - Lines developed from a three-tone motif by the live solo flute dominate this very tranquil section
Yume IV - Above polymetrical, percussion-like layers, a two-part canon is played on different sound levels, fading away in an extreme pp.
Bertold Hummel

Notes on the realisation of the manipulated flute sounds

"Yume" ("Dream visions") was composed in March and April, 1971 and received its first performance in Würzburg in May with Werner Berndsen. The tape played to the live solo flute (alto and great flute) uses exclusively sounds produced by flutes, in forms which are not possible in live playing and thus could not be replaced by a number of musicians - which justifies the procedure. The tape sounds are produced only by changes of speed, by excessive amplification and by use of echo effects. By slowing down or speeding up the tape, sounds are produced ranging from G to a#''''', even to a#'''''' in the second movement (reaching however the limits of tape recording technique).
The score was conceived by the composer for the solo flute and 4 to 5 recorded flutes. In the 29th bar of the first movement, a cascade-like superimposition results in even 10-part writing for the recorded tape. The score is in conventional notation and each nuance is specified with utmost precision. There is no improvisation in the plan. Here are the additional "instructions" for the different movements.
1st movement: gong-like sounds / glissandos / pads alone / flutter tonguing / echo.
2nd movement: speeded-up tape / tritone glissando / glissando ½, 1, 1½ tone / playback of individual passages in double tempo and also backwards in crab.
3rd movement: click effect (tongue clicking with flute in playing position) / glissando produced by introducing thumb into the head-piece. / tremolo with all pads / blowing into the mouthpiece, all the air passing into the tube (cat's hissing) / glissando (over a minor seventh) / merging in of particular passages in double speed / flageolet and glissando for the solo flute.
4th movement: pad percussion effect / click effect / tremolo / copy of the solo flute in canon with echo / cymbal effect / flutter-tonguing / flutter-tonguing and trills / glissando (tritone).
Thomas Richter
Press
TIBIA 2/98
The 1992 edition of Advance Music includes a CD on which are recorded the complete work and also the flute sounds without solo flute, as used on the tape accompanying the live performer.
Electronic manipulation produces unexpected flute sounds (..) These most colourful effects are all part of a carefully planned structure, a distinguishing feature of all Bertold Hummel's compositions. (...) Player and listener alike are impressed by the pleasing playability of this work, despite its complexity.
In the new works competition of the U.S. National Flute Association in 1966, it received the 1st prize.
Hanauer Anzeiger, 25th July, 1997
Esther Alt set the atmosphere for the evening with Bertold Hummel's Yume I/II (1971). Faced with the huge spectrum of taped flute effects with mega pad-sounds and deep, resonant bass notes, the performer made her entrance effortlessly and achieved a rare synthesis of electronics and acoustic sound, a transparent picture of "pure" flute such as the old master Hummel wished for and saw realised in this interpretation.
Ostfriesische Nachrichten, 30th July, 1996
This work was equally astonishing and fascinating. There were notes, sounds, scales recorded from different flutes, sometimes transformed to the limits of recognisability, changed into rhythms or clusters. In the dialogue with the live flute, fantastic effects arise, correspondences are felt, new horizons are opened. Jens Becker was an ideal choice as performer. He presented the work, which, incidentally, won a coveted prize in the USA, with great seriousness and ability, filled it with life and exploited both the tension and the serenity implicit in the composition.