Alleluia for organ op. 44 (1972)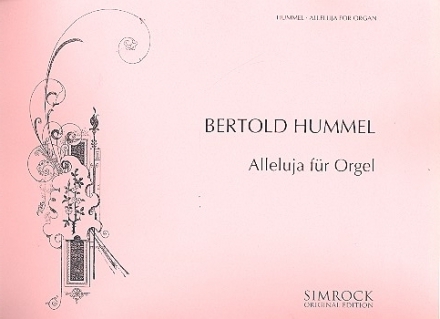 Beginning of Alleluja

First performance: May 2, 1972, Oldenburg, St. Lamberti
Dieter Weiss

Duration: 7 Minutes
Publisher: N. Simrock Hamburg-London (Boosey & Hawkes) ISMN M-2211-1806-6

ifo-records ORG 72222
The Alleluia, op. 44, came into being on Easter Monday, 1972 in Salzburg. The Gregorian Easter Alleluia - quasi as mode - is present in every bar.
A restrained beginning, marked by the presentation of the musical material in tritone separation, meets with a contrasting sharply accented theme in the pedal. Passing through an often garland-like set of loose variations, the theme reaches a bitonal climax (f minor and D Dur simultaneously).
The dramatic development is repeated, held back by arioso interruptions, until the principle idea is finally led to a close in dense chords.
In the final chord, all notes of the theme are heard simultaneously.

Bertold Hummel
In his Alleluia (1972), notes are clustered into drops of sound, serving also as background chords for flourishes from the Gregorian chant, short sections are formed with ostinatos and rapid, wide-ranging running passages over the whole keyboard. Between, beneath and above, the cantus firmus, often in chords, is heard. A piece for cathedral organs.

Victor Lukas (in "Orgelmusikführer" Reclam, Stuttgart, 1963)


Larry D. Crummer: The Solo Organ Works by Bertold Hummel, Dissertation 1983
Press

Mainpost, 19th May, 1976

As a successful close, crossing the bridge to contemporary composition, Weinberger presented Hummel's "Alleluia" (1972). Starting from the Gregorian Alleluia, an independent, multi-layered world of sound is created. It consists of different complexes of motifs, all of which are related to the original theme, revealing it in manifold and otherwise concealed perspectives. Happily, there is no hint of concessions, in the sense of superficial platitudes, to the purely conventional listener.
www.lucidculture.wordpress.com , 26, January 2010
She closed with a showstopper, Bertold Hummel's Alleluja. Messiaen-esque in its rapt, awestruck, somewhat horrified intensity, it's a partita featuring a neat little flute passage over atmospheric pedals midway through, as well as a theme that borders on the macabre with its severe tonal clusters and recurs with a portentous triumph at the end. With its breathless staccato contrasting with big sustained block chords, it's not easy to play, and Lee nailed it.

See also: Fantasia gregoriana op. 65