Stille vor dem Sturm, Symphonic Poem for large Orchestra, (after a painting by Hans Thoma), op. 49 (1973)
Intrumentation: 3.3.3.3 - 4.3.3.1 - Timp., Perc., Hrp., Strings
First performance: July 25, 1975, Würzburg, Hochschule für Musik
Orchester der Hochschule für Musik Würzburg / Hermann Dechant
Duration: 8 Minutes
Publisher: Schott Music

The Symphonic Poem for large orchestra, Calm before the Storm, was inspired by the painting of the same name by Hans Thoma (1839-1924). Over a sunlit grain-field, an approaching thunderstorm gathers threateningly in the background. The aim was to translate the tension in the picture resulting from this contrast into music. Thus very tranquil musical landscapes alternate with short, violent outbursts. Despite the dominating Adagio character, an inner agitation is created, which is maintained until the end of the ten-minute work.
Bertold Hummel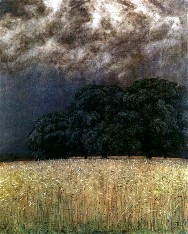 Hans Thoma
Die Stille vor dem Sturm
1906
Press
Augsburger Allgemeine, 21st April, 1999
Bertold Hummel's picture in sound - a refined compositional tapestry of pale, stationary passages with exciting instrumental combinations and precisely developed eruptions of sound. The compact apparition was attractive and lasted only briefly.
Main-Post 28.7.1975
"Calm before the Storm " for large orchestra was composed by Bertold Hummel in ten days in 1973 during a stay by Lake Garda. He himself described it as a "nostalgic piece" in neo-impressionist style. A "new tonality", in which the chords no longer have functional significance as in classical harmonic theory, creates a broad musical canvas on which short explosive events occur but then immediately sink out of sight again.