Ikonen for Vibraphone, op 57a (1975)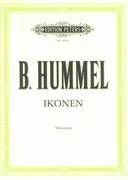 I.

II.
III.
IV.
V.

First Performance: April 6, 1976, München, Lenbachhaus
Hermann Gschwendtner

Duration: 14 Minutes
Publisher: C.F. Peters Musikverlag EP 8383
The work was written during a stay in Greece in 1975.
The five sketches are like diary notes recording impressions of visits to Byzantine churches with their splendid icons - impressions of a piety with light and shade, foreign and yet familiar, peaceful and yet in motion, full of contrasts and yet a harmonious whole.

Bertold Hummel

Press

Fränkisches Volksblatt, 23rd November, 1979
Hummel's "Five Icons for Vibraphone" were written in 1975 during a visit to Greece. They were inspired by Byzantine icons in orthodox churches, by the sound of bells and by the prayers of believers in front of the icons. They bring us a chain of stimulating rhythms. Refined combinations of sounds make a variety of dynamic differentiation possible and glittering scales shimmer through a complex polyphony of "bell chimes".