Divertimento for Cor Anglais and Viola op. 62b (1977)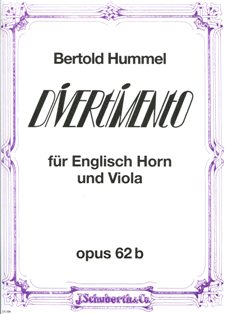 I. Prologue
II. Intermezzo
III. Walzer
IV. Introduction and Marsch
First performance: October 23, 1977 / Bremen, Schloss Schönebeck
Jürgen Hollerbuhl / Eva Hollerbuhl
Duration: 10 Minutes
Publisher: Schott Music ED 20291 / ISMN: M-001-14996-9
Press
Orchester 7/8/1986
In 1981, the Schubertverlag in Hamburg published the Divertimento for Bassoon and Violoncello, op. 62c, written by Bertold Hummel in 1977. This was based on a composition for Cor Anglais and Viola (written, incidentally, as a musical wedding present for two of his musical friends), re-worked by the composer for the instruments named above.
Since there is so far regrettably little repertoire for these two instruments, this composition with its musical quality will certainly prove an enrichment. This charming chamber work of medium difficulty provides music for pleasure; its starting point lies not in any compositional theory but comes rather from composing instrumentalist writing for the instruments in question and their individual characteristics, resulting in a piece highly suitable for instrumental teaching in chamber music.
Starting with pregnant short motifs, worked by the composer into four strongly contrasting movements - in quasi-Serenade style, the work does not, despite the basically tonally free style, do without tonal formulas and phrases. The musical language of Hummel is audibly related to that of Genzmer or Hindemith; the four movements are a song-like Prologue, an whirring Intermezzo providing lively music-making, a charming Waltz, slightly carried away with itself, an expressive Introduction and an energetic March.
The composer Hummel has been President of the Hochschule für Musik in Würzburg since 1979. Within the broad spectrum of his creative work, this composition demonstrates the stylistic flexibility of the composer. This Divertimento has, by the way, been recorded by the bassoonist Eberhard Buschrnann and Bertold Hummel (Cello) for Bavarian Radio.
Bremer Nachrichten, October, 1977
In the Divertimento for Bassoon and Violoncello, Eva and Jürgen Hollerbuhl showed that they are in no way at home only with Baroque or Classical, but also with Modern. The Divertimento in question was composed by Bertold Hummel especially for them. Amusing was the result of the indeed carefully prepared but time and again teasingly conceived closing formulas, which declared the whole movement to be a question, a statement, a matter for argument or a joke.