Divertimento for Bassoon and Violoncello, op. 62c (1977/1978)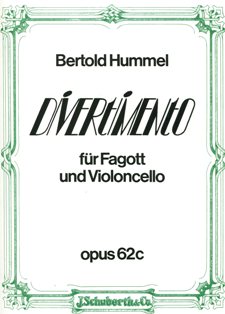 I. Prologue
III. Walzer
IV. Introduction and Marsch
First performance: December 31, 1978, Freiburg, Kaisersaal des Kaufhauses
Matthias Maria Scholz / Monika Schwamberger

Duration: 10 Minutes
Publisher: Schott Music ED 20292 / ISMN: M-001-14997-6
Press
Südkurier, 5th January,1979
A conversation in witty sounds for bassoon and violoncello made a wonderful New Year's present. In the pathos of the opening exchange, following by a musical dispute and then a frolicking waltz, the composer invites us to an optimistic march into the New Year. The applause confirmed that Hummel had got his aim right regarding his audience.
Orchester 7/8/1986
In 1981, the Schuberthverlag in Hamburg published the Divertimento for Bassoon and Violoncello, op. 62c by Bertold Hummel, written in 1977 following an original work for cor anglais and viola (composed incidentally as a piece for the wedding of two musician friends) and rearranged by the composer for the present combination of instruments.
Since, regrettably, there is to date little literature for these instruments as duo, the composition will with its quality certainly be an enrichment in the field. This charming chamber music is a medium-difficult piece for the pure joy of playing, not the result of any compositional theory but rather written by a composing instrumentalist for the instruments in question and thus also ideally suited to purposes of instrumental teaching. Starting from brief, pregnant motifs, developed by the composer - quasi in Serenade style - in four quite contrasting movements, it does not, despite an free-tonal basis, dispense with tonal formulations and phrases. The bridge in sound connecting Bertold Hummel to Genzmer or Hindemith is audible and the four movements are divided into a cantabile Prologue, a motoric, romping Intermezzo, a charming Waltz which gets carried away with itself, an expressive Introduction and an energetic March.
The composer Bertold Hummel has been President of the State Music College in Würburg since 1979. Within the broad palette of his works, this work gives us evidence of the composer's stylistic variety. This Divertimento has, incidentally, been recorded by the bassoonist Eberhard Buschrnann and Bertold Hummel ('cello) for Bavarian Radio.
Alfred Rinderspacher
Badische Zeitung 3rd March, 1979
Hummel effervesces with sparkling musical moods and much humour in these four movements for bassoon and 'cello, a combination of instruments otherwise by given attention almost only by Mozart. Tailor-made for the sonorities and expressive capacities of the instruments, rollicking and fizzing (for the final march, Stravinsky must have been the god-father), the composition found in Matthias Maria Scholz and Monika Schwammberger most suitable performers.