Suite for Solo Horn, op. 64 (1977)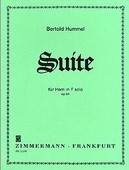 II. Intermezzo
III. Choral
IV. Finale
First Performance: June 24, 1981, Potsdam (New York), State University College of Arts and Science, Sara M. Snell Theater
Philip Myers

Duration: 11 Minutes
Publisher: Zimmermann Musikverlag Frankfurt ZM 21270 / ISMN: M-010-21270-8

manuscript

op. 64 suggested by Bernhard Krol

The Suite for Horn Solo, Op. 64, by Bertold Hummel was composed in 1977 and received its first performance in the U.S.A. with great success in 1981. The work largely follows the path indicated by Hindemith, of a "melodic tonality" in its musical language, i.e. in which the inner tensions of the intervals are searched and explored. After the fanfarelike introduction containing an agitated figure which prepares the listener for the mood of the following intermezzo, we hear the adjoining chorale treatment of ,,Nun bitten wir den Heiligen Geist". This is the centre of the work and is proof that Bertold Hummel's style of composition has a deeply religious and humanitarian orientation. The brilliantly virtuoso build-up in the last movement is reminiscents of a jubilant finale of the classical period, and rounds off convinringly and compellingly this four-movement cycle.
Klaus Hinrich Stahmer (Translation: R.J. Sutcliffe)
I have become a real fan of Bertold Hummel's works. Relatively unknown to American hornists, this work and his Sonatine for Horn and Piano are quality works. In 4 movements, this work offers variety for the hornist and audience. The movements are not too long and offer a variety of styles (Invocation, Intermezzo, Choral, Finale). Invocation is fairly short, but incorporates much rhythmic diversity. Though written straight ahead, the soloist will need to take LOTS of liberties in order to set up sections and organize the movement so it doesn't spin out in a rambling fashion. Intermezzo features rapid-fire sections and some awkward leaps and chromaticism. FLASHY! Choral is just as one would normally expect. However, the soloist doesn't receive much respite as there are sections where the hornist needs to have an effortless upper range cantabile in several sections. Finale pays homage to the traditional "hunting horn finale." Boisterous triplet patterns are very chromatic and do not flow like one would normally expect. A small flutter tongue passage is thrown in for fun. At first glance, this movement looks harder than it is. Though it takes time to work up this piece, the time and effort is well worth it.
Hornist's Guide to Unaccompanied Solo Literature/ University of Oklahoma