Partita for Nonet or Chamber Orchestra, op. 79 (1982)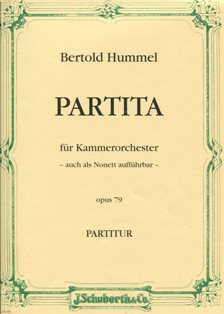 I. Prologue

II. Burlesque

beginning

III. Tempo di Valse

IV. Finale Marciale
Instrumentation: 0.1.1.1 - 1.0.0.0 - Strings
First performance - Nonett: November 12, 1982, München, Residenz
Münchner Nonett: Erich Keller / Karsten Heymann / Walter Stangl / Ulrich Bode / Herbert Duft / Kurt Kalmus / Karl-Heinz Hahn / Richard Popp / Gottfried Langenstein



First performance - Chamber Orchestra: October 21, 1994, Lublin (Poland)
Philharmonie Lublin / Piotr Wijatowski
Duration: 20 Minutes
Publisher: Schott Music

Helbing-Verlag HI-I8008CD
The Partita, op. 79, followed a suggestion by the "Münchner Nonett". For tour in east Asia, an entertaining "serene" composition was needed. In 4 movements, I attempted to satisfy the requirements.
In the Prologue, the 4 wind instruments (oboe, clarinet, bassoon and horn) are initially introduced in solo roles, while the strings give us their comments en bloc. Alongside a motif in fourths in Schönberg style, the series B-A-C-H (German for B flat: A: C: B) and the 4-note motif from Wagner's Tristan also appear. After many interweavings and metamorphoses, the movement closes with the deepest note on the clarinet.
The Burlesque lives from the whirling movement of sixteenth notes, which is only briefly interrupted when it come to rest at the sectio aurea. Winds and strings often perform as opposing blocks, so that very amusing figures in sound arise.
In the Tempo di Valse, the closing chord of the Burlesque is re-used and extended via further triads until all 12 chromatic notes are present. After the slow introduction, numerous attempts are made to get a waltz into motion, but there are constant rhythmic disturbances. Gestures from waltz and ländler make more and more progress, until the opening chord is finally reached again, at which point the movement ends.
The Finale marciale is marked by march-like structures: at the beginning a funereal introduction, which is gradually transformed into a grotesque quick march. The funereal atmosphere reappears, before the grotesque march forces its way to the end and is broken off at the sonorous climax. The ostinato coda ends with a surprising gesture.
Bertold Hummel
Press
Berliner Tagesspiegel, 10th November, 1979
Later, Bertold Hummel's Partita for Chamber Orchestra is performed: a sonata for the big city, full of expressionistic perspectives, shadows, passages, whirling trills and dark deeds in unison - stumbling waltzes, hobbling traffic marches, flexible escalators, simultaneous seconds. New spaces are created.
Main-Post, 15th/16th November, 1986
Something completely different, vital and witty, highly original formulations and exactly what the instrumentalists enjoy in the solo parts: this is Bertold Hummel's Nonet, op. 79 (1982), an opening fan of effervescently inventive, multi-colour and fascinating instrumental eccentricities, burlesque and pleasingly pictorial.