Fünf Anrufungen for percussion solo, op. 81b (1983)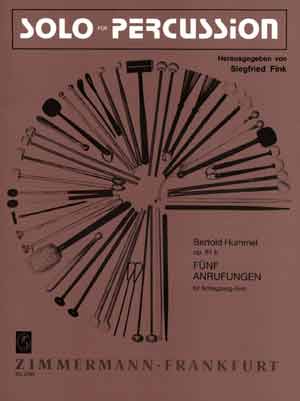 I.

II.
IV.
V.


Percussion: Vibraphone, 2 Tom-toms, 2 Bongos, Snare Drum, 5 Templeblocks, 4 Cymbals, Sizzle Cymbal, Gong (min. 20 cm), Tam-tam (min. 28 cm), 2 Claves, Woodblock
Première: january 29, 1984, Friedrichshafen, St. Columban
Bernd Kremling

Duration: 13 Minutes
Publisher: Zimmermann Musikverlag Frankfurt ZM 2590 / ISMN: M-010-25900-0
Press
Percussive Notes / Fall 1987

Five Invocations op. 81b
This is a five-movement collection of solos for multiple percussion: vibraphone, tom toms, bongos, snare drum, temple blocks, and several metallic sounds. Each instrument is identified by graph symbols in the parts. Stick and mallet indications are quite clear, though it should be mentioned that a bass bow is needed. The movements contain interesting color and dynamic contrasts and will require careful preparation as there is no suggested setup. The print is exceptionally clear and this should contribute to the work's becoming an excellent addition to the solo and degree recital literature. I recommend it highly.
George Frock