Tre Pezzi for saxophone in E-flat solo, op. 81e (1979)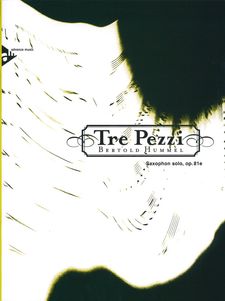 I. Monologue

beginning
II. Contrasts
III. Presto
Première: may 5, 1988, Würzburg, Hochschule für Musik
Normand DesChènnes

Duration: 8 minutes
Publisher: Schott Music
ADV 7052 / ISMN: 979-0-2063-0702-7


Conventus Musicus CM 105
A melody with wide-ranging curves opens, in very slow tempo, the first piece.
A motoric Presto section suddenly breaks the atmosphere. This is repeated - with varying emphases - several times in the course of the movement. A brief, lively coda concludes the Monologue.
In "Contrasts", different bird-call patterns are brought into play against each other, in a way like mobiles. Virtuoso runs, flutter-tonguing and rubato playing are important elements in the final Presto.
Bertold Hummel