Trio for Trumpet in C, Percussion and Piano, Op. 82a (1984)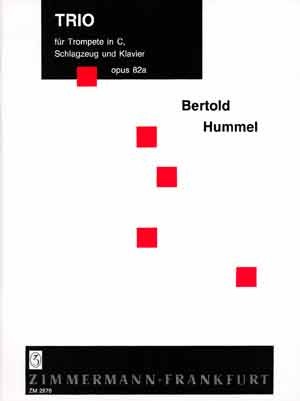 II.
Première: May 16, 1984, Rothenburg ob der Tauber, Reichsstadthalle
Richard Steuart / Bernd Kremling / Johanna Klinger
Duration: 12 Minutes
Publisher: Zimmermann Musikverlag Frankfurt ZM 28760 / ISMN M-010-28760-7
Video: Works by Hummel on youtube
The Trio for Trumpet in C, Percussion and Piano, Op. 82a, was composed for the opening ceremony of an international Symposium in Rothenburg ob der Tauber in 1984.
The work consists of two movements. In the 1st movement, note sequences stand out against the sound texture produced by the piano, and are progressively compressed to reach their climax in 3 arioso passages. A short abgesang leads back to the mood prevailing at the beginning of the movement.
The 2nd movement is of a sharply contrasting nature in that it uses rhythmically pronounced figures forming interesting combinations of the different Instruments but also sharp contrasts. The golden section of the movement is a cadenza played jointly in free notation, which combines all elements similar to a development section and demands a high degree of flexibility of the players.
A solo improvisation by the percussion forms a transition to a concise reprise which concludes the movement vigorously.
Bertold Hummel
(translated by Holger Klier)
John Adler:

Expanding the trumpet repertoire: A pedagogical exploration of four diverse works for trumpet by Bertold Hummel, James Miley, Karl Pilss, and Joseph Turrin, University of Miami, 2009
(excerpt)



Press
Percussive Notes / February 1995
Trio for Trumpet in C, Percussion and Piano

This two-movement work calls for a variety of percussion instruments including: bongos, tom-toms, temple blocks, five cymbals (one with rivets), a cup chime (cup gong?), chimes, gong, tam tam, vibraphone and snare drum. Although the setup is not small, the "choreography" demanded by the music is fairly easy.
The first movement begins as the piano starts a pianissimo ostinato with a light tam tam roll for accompaniment. The trumpet and vibraphone enter with long tones over the shifting rhythms. These tones compress to the peak of the movement before the original texture returns for a quiet ending.
In contrast, the second movement is a fast rhythmical vivace with changing meters. The percussionist mainly performs on drums and cymbals as the work progresses. Hummel incorporates an interesting trio cadenza as all three instrumentalists play jointly in free notation. The percussionist concludes the cadenza alone before the movement recapitulates to the main theme and a strong ending.
The percussion part in Trio is not too difficult, as the music tends to feature the trumpet and piano while the percussionist adds timbre contrast and rhythmic drive.
Mark Ford
ITG Journal / September 1998
In Bertold Hummel's Trio op. 82a for Trumpet, piano an percussion, Scott played with energy and refinement and displaying excellent command of the instrument. The piece itself made good use of this combination of instruments and changed moods very effectively.
Daniel Kiser