Duettino for Vibraphone (Cymbals) and Piano, op. 82b (1985)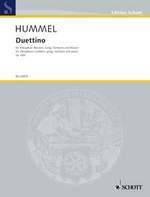 I. Meditation
First performance: November 11, 1986, Augsburg, Leopold-Mozart-Konservatorium
Günther Happernagl / Hans-Leopold Schwerdhöfer




Duration: 7 Minutes

Publisher: Schott Music ED 20975 / ISMN: 979-0-001-17441-1



Audite Aud 95433
Video: Works by Hummel on youtube
In the Meditation a passacaglia is built on the base of 12 different clusters in the piano; the series begins in the third bar after a short introduction, is completely repeated three times, and counterpointed by the ever transforming vibraphone melody. Framing the movement the introduction is repeated at the end.
The character of the second movement Ostinato is moulded by an ascending four-note motive contrasted by a damper-pedalled eight-tone sequence
developing into a short melody. Through numerous interactions of this musical idea the composer unfolds an amusing Rondo which also integrates Jazz rhythms.
Bertold Hummel (Translation: Jean Henssler / Daniela Koreimann)