Marian Fantasies I-III for Basset Horn solo (or Bass Clarinet or Bassoon), op. 87d (1990)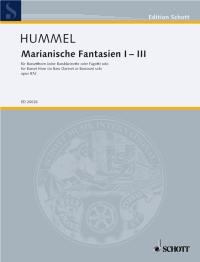 I. Ave Maria zart ...

II. Salve Regina

II. Regina coeli
First Performance of the Version for Basset Horn: March 22, 2002, Reutlingen
Martin Litschgi (Basset Horn)

First Performance of the Version for Bassoon: April 13, 2006, Peking, Central Conservatory
Albrecht Holder (Bassoon)
Duration: 10 Minutes
Publisher: Schott Music ED 20026 / ISMN M-001-14472-8

| | |
| --- | --- |
| | |
| Basset Horn | Bass Clarinet / Basoon |
Preface (Schott Music ED 20026)

The Marian Fantasies were composed in 1990. They are based respectively on Gregorian Marian chants and a melody from the 17th Century which are quoted above each fantasy and particularly underline the metaphysical colouring of the basset horn timbre. The ornate fantasies on these melodies permit the basset horn to exploit the full potential of its cantabile character. A link is forged between the traditional chants and the music ofthe 20th Century through the sonority of the basset horn which is detached from time and space, also frequently utilised by W. A. Mozart to represent otherworldly themes.
In most beautiful fashion, the Marian Fantasies simultaneously reflect the compositional present and illuminate its roots. This music acquires an additional dimension through its spiritual-religious basis, making the work suitable for all performance categories; the fantasies will find their place both in the concert hall and the church and within both a secular and ecclesiastical framework. The composition is easily comprehensible and a pleasure in performance for both musicians and audience.
The versions for bassoon or bass clarinet have been authorised by the composer and present a good alternative performance possibility.

Martin Litschgi (Translation: Lindsay Chalmers-Gerbracht)