Due a due for soprano saxophone in B-flat and percussion, op. 88a (1987)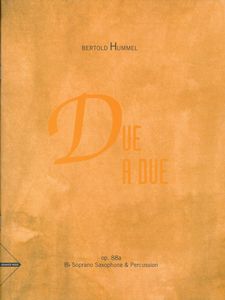 Due a due

beginning
Percussion (one player):
Vibraphone, Marimba, Cymbals, Tom-Tom etc.
First performance: September 30, 1987, Rimovski (Canada), Salle Georges-Beaulieu
Normand Deschênes / Mark Lutz

Duration: 8 Minutes
Publisher: Schott Music
ADV 7039 / ISMN: 979-0-2063-0690-7


Conventus Musicus CM 105
Video: Works by Hummel on youtube
The overall form of this work in one movement is in seven sections. A slow introduction begins with multiphonics of the saxophone and sounds of cymbals played with a double-bass bow. Vibraphone and marimbaphone provide the chordal foundation for a fanfare-like invocation by the saxophone. The atmosphere of the following Allegro is dominated by an ostinato series of notes taken from the chords of the introduction and played by the marimbaphone; over this, starting from a four-note series, the saxophone develops jazz-influenced figures. The constructional elements are worked into a cadenza-like section, followed by an arioso passage, leading over lightly-pulsating sounds to a final climax with a B-A-C-H (B flat - A - C - B) quotation in the saxophone. Once again, it continues with a cadenza-like section. Slap in the saxophone and stopped notes in the vibraphone and marimbaphone introduce new ideas and sonorities for discussion, the constructional elements are played off against each other in a loose sequence. At the end of this second cadenza, the B-A-C-H (B flat - A - C - B) quotation re-appears in the saxophone. A varied reprise of the first Allegro section leads to a concluding passage, taking up the atmosphere of the introduction, combined however with clear references to the four-note series of the Allegro. The interval of a third is heard and remains hovering in the air to the very end, closing the work in pianissimo.
Bertold Hummel