Turmmusik I-V (Steeple Music) for 2 trumpets and 2 trombones, op. 88c (1988)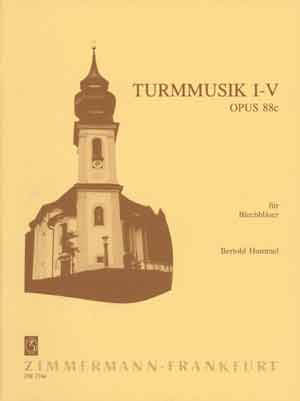 I.
II.

III.
IV.
V.
First performance: November 23, 1988 / Würzburg / Rathaus, Wenzelsaal
Jörg Günter / Andreas Dümmler / Dieter Wendel / Werner Engelhard

Duration: 12 Minutes
Publisher: Zimmermann Musikverlag Frankfurt ZM 27440
Video: Works by Hummel on youtube
Press
Musica (Bärenreiter-Verlag), Vol. 3, May/June, 1990
In an age which in many ways is attempting to connect with urbane traditions of past centuries in order to win back quality of life for the present, it is certainly not anachronistic to write a Turmmusik ("Steeple Music") in the hope that it may also find an audience. Bertold Hummel's work in five movements is made-to-measure, in terms of instrumentation and compositional technique, for its intended purpose. On the model of baroque Quatrocinia, the individual movements are homophonic; short phrases are developed in varied terraced dynamics and vibrant tonality from unison motifs. The musical language, rich in contrasts, takes its lead from tradition and is not without rhythmical refinement. The piece is not really suited to large ensembles. Soloists will enjoy it greatly.