Im Tempo eines Ländlers (Tempo di Laendler), Study for Dulcimer, op. 88 e (1990)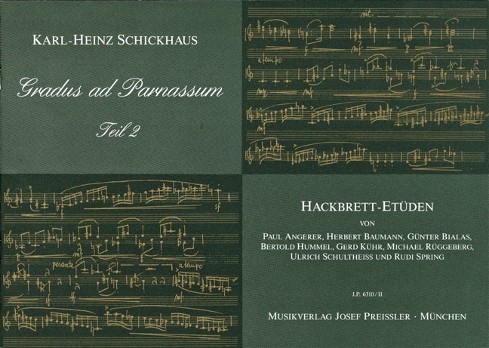 First performance : February 2, 1994, München
Duration: 4 Minutes
Publisher: Musikverlag Preissler JP 6310/II
in "Gradus ad Parnassum II" Works written since 1988 by Paul Angerer, Herbert Baumann, Günter Bialas, Bertold Hummel, Gerd Kühr, Michael Rüggeberg, Ulrich Schultheiss and Rudi Spring. Edited by Karl-Heinz Schickhaus.

In the year 1990, the renowned dulcimer player, researcher and teacher Karl-Heinz Schickhaus (1938-2007) asked Bertold Hummel to compose a piece for a collection of studies he was going to publish. The resulting piece Im Tempo eines Ländlers (In Ländler tempo) is intended to be useful above all in training whole-tone scales.