3 Waltzes for Piano (2 and 4 hands), Op. 95f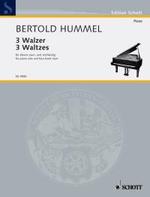 I. Little Waltz op. 95f,1 (1994)
II. A little Obeisance op. 95f.2 (2001)
III. Wedding Waltz op. 95f,3 (1998)

beginning
Duration: 11 Minutes
Publisher: Schott Music ED 9898 / ISMN: 979-0-001-13976-2



Musicaphon M 55716
Preface
These three waltzes, composed fcr part,cular celebrations and full of allusions which are clear to the dedicatee, are not difficult to play and are unmistakably authentic Bertold Hummel - one of them even carries his musical signature.

Little Waltz
This short waltz of 67 bars was composed by Bertold Hummel for his wife Inken's 67th birthday. On the morning of every birthday in the Hummel household, the 3`d verse of the hymn "Lobe den Herren" ("Praise to the Lord") was sung. The singing composer at the piano accompanied the more or less ready and willing members of the family. The final notes of the hymn open the waltz.
Eine kleine Reverenz (A Little Obeisance)
On the occasion of the composer's 70th birthday, his friend Paul-Werner Scheele, Bishop of Würzburg, gave the laudation in the Gasteig, Munich. In this speech, Scheele referred several times to Hummel's 2nd Symphony, "Reverenza". On the Bishop's 73rd birthday a year later, the composer took his "revenge" with this "little Reverenza" in 3/4 time, juggling with the notes contained in the letters of both names.

Wedding Waltz
The wedding Waltz was heard for the first time on the evening of the wedding of Hummel's son Stefan David and his wife Gabriele by the Wolfgangsee in Austria. In a kind of parable, the two piano parts travel together or alone through heights and depths, through major and minor, finally uniting at the end in a radiant C major.

Martin Hummel