Cantate domino Motet for male-voice Choir (TTTBBB) a cappella, op 97c (1992)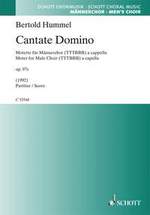 Cantate domino

beginning
First performance: December 27, 1992, Kloster Windberg
cantARTE / Hubert Velten

American first performance: May 29, 1996, Chicago / Cathedral of the Holy Name
cantARTE / Hubert Velten


Duration: 3 Minutes

Publisher: Schott C 53544 / ISMN: 979-0-001-16950-9



Musicom

Cantate domino
Cantate domino canticum novum, alleluja,
quia mirabilia fecit Dominus alleluja,
ante conspectum gentium revelavit justitiam suam, alleluja.
Salvavit sibi dextera ejus et brachio sanctum ejus;
cantate domino canticum novum, alleluja.
Foreword

Schott C 53544
At the same time that I occupied the position of Director of the Academy of Catholic Church Music

[Fachakademie für Katholische Kirchenmusik]

in Regensburg between 1988 and 2000, Bertold Hummel had been appointed as State Examination Commissioner. This provided me with an opportunity to request him to compose a motet for my then young vocal ensemble. I was astounded when he presented me with the score of this fine

Cantate Domino

the very next day.
Hummel selected the first two sections of the 98th Psalm as his text. The slightly rearranged psalm verses had already been set to a Gregorian chant around 800 which is sung in both the Protestant and Catholic liturgy of the mass as the Introitus (introit) on the 4th Sunday after Easter (5th Week of Easter).
I have frequently performed this motet with my ensemble cantARTE, for example in Portugal (Se Catedral do Porto), Chicago (Cathedral of the Holy Name), Rom (Sant'Ignazio) and on numerous additional occasions, always with great success! I have always greatly valued my friendship with Bertold Hummel and to the present day am thankful that I was permitted to become acquainted with him.
Hubert Velten, 2009 Translation: Lindsay Chalmers-Gerbracht