Ave Maria for 6 - 8 part mixed choir a capella, op. 97e2 (1993/2001)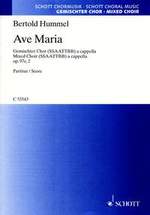 Ave Maria

First performance: May 20, 2001, Würzburg, Kiliansdom
Würzburger Domchor / Siegfried Koesler

Dedication: for Siegfried Koesler in friendship

Duration: 3 Minutes

Publisher: Schott Music C 53543 / ISMN: 979-0-001-16909-7




youtube video
This "Ave Maria" is an arrangement made by Bertold Hummel in December 1997 of his motet "Gegrüßet seist du, Maria [Hail Maria]" which he had composed on 20 May 1993 with a dedication in memory of his deeply religioues sister Erika. This Latin version was dedicated to the Cathedral Music Master Siegfried Koesler in Berold Hummel also co-founded the Bruckner Festival in Würzburg together with Koesler and Erwin Horn, a specialist in the opening section of their sorks and Bertold Humme quotes Bruckner's final cadence on the name of Jesus prios to the Amen.
The text of the so-called Angelic Salutaion is based on the Bible passages from the Gospel of St Luke (luke 1, 28b, 42) which was extended over the centuries with additions such as Jesus (14th century) and the Invocation to Mary. This text was included in the Breviary of Pope Pius V in 1568 which officially confirmed its status as a prayer.
Martin Hummel
Ave Maria

Ave Maria, gratia plena,
dominus tecum,
benedicta tu in mulieribus,
et benedictus fructus ventris tui Jesus.
Sancta Maria mater Dei,
ora pro nobis peccatoribus,
nunc, et in hora mortis nostrae.
Amen.

German Version:

Gegrüßest seist du, Maria, voll der Gnade,
der Herr ist mit dir.
Du bist gebenedeit unter den Frauen,
und gebenedeit ist die Frucht deines Leibes, Jesus.
Heilige Maria, Mutter Gottes,
bitte für uns Sünder
jetzt und in der Stunde unseres Todes.
Amen.

English Translation:
Hail, Mary, full of grace,
the Lord is with you.
Blessed are you amongst women
and blessed is the fruit of your womb, Jesus.
Holy Mary, Mother of God,
pray for us sinners
now and in the hour of our death.
Amen.