Ad Missam for 2 Organs, opus 97f (1993)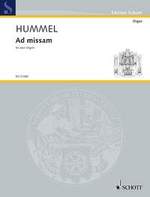 I. Introitus

II. Halleluja

III. Offertorium

IV. Communio

Duration: 15 Minutes

Publisher: Schott Music ED 21268 / ISMN 979-0-001-17980-5



Conventus Musicus CM 103
ad missam for 2 Organs is a commission for Salzburg Cathedral Music, intended expressly for the two organs in the crossing of the Cathedral (each has a so-called short octave in the pedal). Conceived as a quasi organ proper for the mass, the Halleluja uses the version found in Gotteslob, 530,1.
Offertorium and Communio are respectively meditations over the hymns "Was uns die Erde Gutes spendet" ("All good things that the earth have given us ") (Gotteslob 490) and "O Jesu" (Gotteslob 472).
A toccata over the Ite missa est form the missa angelis (Gotteslob 409) concludes the work, which was premièred on the 2nd February, 1994 in Salzburg Cathedral.

Bertold Hummel
Press
Musica sacra, March/April, 1999

The present organ work with the movements "Introitus, Halleluja, Offertorium, Communio, Ite missa est" is a brilliant widening of the very narrow repertoire for 2 organs. The composer employs both instruments very cleverly from the organist's point of view and convincingly in terms of the resulting sound. Since the degree of difficulty of the composition lies around easy to medium difficulty, this very effective work is most heartily recommended to all lovers of music for 2 organs. The only bit of bad news concerning this brilliant composition is that 2 organs with independent pedals are required.