"... in honorem" for organ and percussion op. 98a (1994)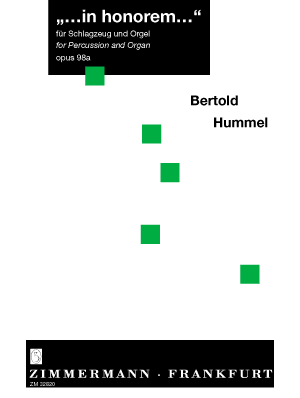 I. Invocation
II. Toccata
III. Choral
Legend for the Percussion:

First performance: September 30, 1994, Nürnberg
Hermann Schwander / Werner Jakob
Dedication: for Klaus Hashagen
Duration: 12 Minutes
Publisher: Zimmermann Musikverlag Frankfurt ZM 32820 / ISMN M-010-32820-1
Title:

Video: Works by Hummel on youtube
The sequence of notes H-A-ES-H-A-G-E (H = b; Es = e flat), derived from the Name of Hashagen, is present in all 3 parts of this 12-minute congratulation piece.
In the Invocation (I) it is presented by tubular bells and vibraphone in the form of a short call embedded in the sound of 5 dobacis. Long sustained organ sounds with supplementary fully chromatic arabesques are assigned to the organ part.
The Toccata (II) gives skin and wood percussion instruments an opportunity to perform a concertante dialog, but also to play together (Mixtur) and in counterpoint (Fugato).
The final Choral (III), repeated interrupted and linked to the "Hashagen theme", concludes the composition with a meditative end.
Bertold Hummel
Press
Percussive Notes December 1999
This is a three-movement work for multiple percussionist and organ. The percussion textures include a huge setup of vibraphone, tubular bells, drums, temple blocks, cymbals and miscellaneous percussion with wood and metal textures. The part includes a page of instrument descriptions plus a diagram of the setup, and stick and mallet requirements are listed as well.
The opening movement, "Incantation," is free and unmetered. It introduces several of the metallic textures, many presented in five-note groupings or statements. Movement II, "Toccata," is fast and rhythmic, featuring drums and vibraphone. The work closes with a chorale that is slow and stately. The publisher has created a clear, well-designed score with no page-turn problems thanks to attached page inserts. The excellent use of colors and melodic statements makes this work suitable for advanced students or professional performers.


George Frock