Ave Maria for voice and organ (piano) or string quartet (1982)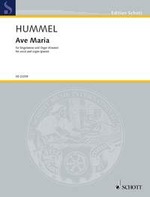 First performance:

August 15, 1983, Würzburg, St. Bruno-Kirche


Martin Hummel / Christoph Weinhart





Dedication:

for Martin


Duration: 2 minutes


Publisher: Schott Music
Version with Organ: ED 22259

/

ISMN:

979-0-001-20326-5





Version with string quartet:
ED 22542 / ISMN 979-0-001-16067-4


bella musica
Video: Works by Hummel on youtube
Bertold Hummel composed this

Ave Maria

for his son Martin who performed the work accompanied by the family string quartet as testified by a surviving viola part.
This part contains an outline of the first 16 bars to be used as a prelude.

The bipartite composition links a major/minor tonality with an affinity to thirds and modal harmony. The dominating element of the accompaniment is a descending Phrygian scale which changes direction during the course of the work and undergoes additional transformations into the Doric mode and a minor key. The second section ("Sancta Maria...") returns to the music from the beginning of the piece, subsequently leading into new combinations of the musical material.
Christoph Weinhart 2015



Ave Maria

Ave Maria, gratia plena,
Dominus tecum.
Benedicta tu in mulieribus,
et benedictus fructus ventris tui Jesus.
Sancta Maria,
ora pro nobis peccatoribus
nunc et in hora mortis nostrae.
Amen.


Translation:
Hail, Mary, full of grace,
the Lord is with you.
Blessed are you amongst women
and blessed is the fruit of your womb, Jesus.
Holy Mary, Mother of God,
pray for us sinners
now and in the hour of our death.
Amen.
See also: Christmas Music by Bertold Hummel