Merry Christmastide for two - 16 Christmas carols for two equal instruments set by Bertold Hummel (2002)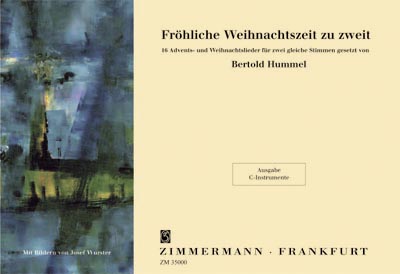 Editions in splendid colour with illustrations by Josef Wurster

"Wachet auf", ruft uns die Stimme
Leise rieselt der Schnee
Es kommt ein Schiff geladen
O Heiland, reiß die Himmel auf
Es ist ein Ros entsprungen

Version for 2 Violins
Engel auf den Feldern singen

Version for 2 Violins
Vom Himmel hoch
In dulci jubilo
Zu Bethlehem geboren

Version for 2 Violins
Kommet, ihr Hirten
Wir grüßen dich, o Jesuskind
Ihr Kinderlein, kommet
Joseph, lieber Joseph mein
O Tannenbaum
O du fröhliche
Stille Nacht
Publisher: Zimmermann Musikverlag Frankfurt
for Instruments in C: ISMN M-010-35000-4
for Instruments in B-flat: ISMN M-010-3001-1
for Instruments in alto clefs: ISMN M-010-35003-5
for Instruments in E-flat: ISMN M-010-35002-8
for Instruments in bass clef: ISMN M-010-35004-2

for Instruments in C
Bertold Hummel suggested the following instrumentation possibilities:
2 violins
oboe and violin
flute and violin
2 clarinets
2 bass clarinets
2 violas
2 violoncellos
2 E-flat alto saxophones
2 bassoons
The different part books can be exchanged at will, so that two-part music-making is also possible with different instruments and instrument groups.
Preface
Making music at Christmas time was natural for Bertold Hummel throughout his life. As a chorister in his father's school choir, as the precentor in his Freiburg parish, as a cellist or as a happy father at the piano, he always enjoyed taking an active part in the Christmas festivities. As a composer, he enjoyed writing new settings for the old Christmas carols and wrote numerous compositions ranging from simple choral pieces to chamber and orchestral music and even to the large-scale choral fantasia "O du fröhliche Weihnachtszeit" for 2 choirs, 4 organs, trumpets and trombones - works with which he moved many people.
It was a moving experience for us when last summer, after a full life with an immense creative output of over 200 compositions in all musical genres, he wrote these settings of Christmas carols as his last work. As if he were returning to the essentials, he once again set himself the challenge of bringing a melody to life with only one counterpart.
We are glad to see that Musikverlag Zimmermann had the idea of illustrating this little work with wonderful pictures by Sepp Wurster. My father made the acquaintance of this versatile artist during his studies in Freiburg. With mutual admiration for the creations of their imaginations they built up a friendship that lasted a lifetime and can now be documented artistically here in print for the first time.
We wish all who play and sing these carols a merry Christmas.
On behalf of the family, December 2002
Martin Hummel
See also: Christmas Music by Bertold Hummel