14 Dances from the Black Forest for 2 Clarinets in B, Trumpet in B, 2 Violins and Double Bass (1957)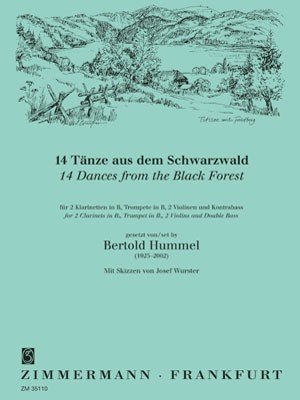 Publisher: Zimmermann Frankfurt ZM 35110 / ISMN M-010-35110-0
| | |
| --- | --- |
| | |
| 2/4/8 | 10/12/13 |
Preface
The tales of Heinrich Hansjakob (1837-1916), the well-known chronicler of life in the Black Forest, tell of folk musicians, wandering buskers, wedding party fiddlers, pipers and trumpeters, to whose music the people of the Black Forest celebrated and danced. In .a tradition spanning centuries, original folk tunes were passed on - mostly orally - from generation to generation, with very few of them being preserved for posterity in the form of sheet
music.
In 1957 the young composer Bertold Hummel, himself born and bred in the Black Forest, was commissioned by the radio station Südwestfunk Baden-Baden to go out in search of this music. He arranged 14 dances from the Black Forest region for the traditional instrumentation of 2 clarinets, trumpets, violins and string bass. In some cases only the chance discovery of a clarinet part (from Siegelau 1883) provided the basis for these dances, among which the so-called Heuberger or the various types of Hippentanz, with their changes of duple, triple and four-four time, are particularly distinctive.
This edition will prove to be a valuable addition for lovers of original folk and dance music. The as yet unpublished music shows the exquisite humour of the Black Forest inhabitants and provides a delightful blend of brightness and gaiety. The inclusion of landscapes by Sepp Wurster, with whom my father was united in life-long friendship and who was able to capture the beauty of this region again and again in the drawings he made on countless rambles, gives this edition its unmistakable Black Forest character.
September 2004 Martin Hummel