Pastorella for 5 Recorders (1960)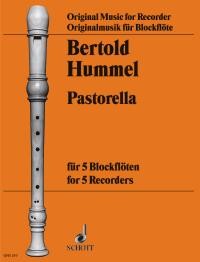 Instrumentation: SAATB

Duration: 4 Minutes

Publisher: Schott Music OFB 189 / ISMN M-001-12503-1

see: Works by Hummel on youtube


During his time as choirmaster of St. Konrad's church in Freiburg in Breisgau, Bertold Hummel also took over in 1957 the musical training in the seminar for nursery school teachers. The Pastorella was composed for his students and was performed for the first time in 1960 by them at a Christmas celebration. When the publishers Schott were looking for extensions to their series Original Music for Recorder, they were interested by the piece and published it in 2000. - This melodious, easy piece is rooted in the Baroque pastoral tradition with characteristic sequences in chords of thirds and Siciliano rhythms.