3 Cadences to the Concerto C Major op. 2 Nr. 2 by Joseph Reicha for Violoncello solo (1973)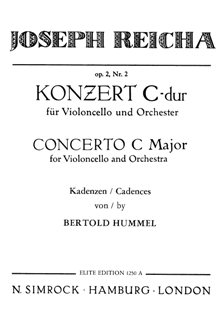 Instrumentation: 2 Flutes, 2 Oboes, 2 Cors, 2 Violins, 2 Violas, Basso continuo

Publisher: N.Simrock Berlin-London (Boosey & Hawkes) ED 1250 A / ISMN: M-2211-0632-2
Preface
This new edition and arrangement of an old Simrock publication, serves to commemorate the friendship and co-operation of the composer Joseph Reicha, with the publisher Nikolaus Simrock.
Joseph Reicha (Rejcha), born 1746 at Klattau in Bohemia, was a pupil of Franz Joseph Werner (1710-1768), the founder of the Prague Violoncello School. As First Violoncellist he was a member of the orchestra of Prince Oetingen at Wallerstein from 1774 to 1785. In 1785 he went to Bonn as leader of the orchestra, later becoming
conductor, and died there in 1795.
Among the members of his orchestra were not only his nephew and pupil Anton Reicha (1770- 1836) and the young Beethoven, but also Nikolaus Simrock (as hornplayer), who in 1790 founded his firm in Bonn. So it was a matter of course, for N. Simrock of Bonn to publish compositions by Joseph Reicha, incidentally also some by the young Beethoven. The old Simrock catalogue lists the works 1 to 5 a; these are duos for violin and violoncello, concertantes for 2 violins, or violin and violoncello, with orchestra, 4 violoncello concertos, one concerto for two horns with orchestra, as well as 3 symphonies for large orchestra.
The last World War destroyed the stocks and printing records of the publishers in Leipzig; all of Reicha's works were also affected. The publishers are, however, endeavouring to re-discover his works again, in various archives and libraries, with the assistance of interested experts, and to re-publish those of value. This concerto is certainly among these, and we owe sincere thanks to our friends in Prague and Brno, who supplied the necessary records.
The Simrock catalogue lists under op. 2 Concertos pour Violoncelle avec accomp. de I'Orchestre no. 1 in E flat, no. 2 in C, no. 3 in F minor.
A beginning shall be made with op. 2 no. 2. In this brilliant concerto Joseph Reicha shows himself as one of the first violoncello virtuosi, whose composing technique comprised the high register rarely used at his time. The concerto appeared in print with N. Simrock in Bonn, approximately in 1802.
In this new edition, obvious mistakes have been corrected, and fingering has been added to the solo parts. The piano score has been re-written, and newly added cadenzas have been created.
Hamburg - London,1973 Bertold Hummel - G. Riethmüller