"... in honorem" pour orgue et percussion, op. 98a (1994)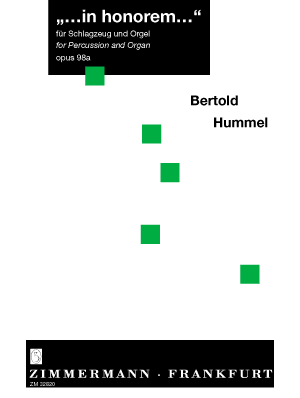 I. Invocation
II. Toccata
III. Choral
Première: 30 septembrer 1994, Nürnberg, St. Sebald
Hermann Schwander / Werner Jakob
Durée: 12 minutes
Maison d'édition: Zimmermann Musikverlag Frankfurt ZM 32820 ISMN M-010-32820-1
tablature pour percussion:

titre:

Video: Hummel sur youtube
La pièce "in honorem" a été dédicacée à Klaus Hashagen lors de son 70ème anniversaire. De différentes stations radiophoniques l'ont adoptée et elle a eu beaucoup de succès dès sa première représentation. La suite des notes tirées du nom Hashagen est présente dans les trois parties de cette pièce de félicitations. Après "l'Invocation" d'un caractère improvisé suit une "Toccata" assez étendue. Le troisième mouvement "Choral" termine la pièce qui est riche d'effets et de couleurs sonores.
Percussive Notes December 1999
This is a three-movement work for multiple percussionist and organ. The percussion textures include a huge setup of vibraphone, tubular bells, drums, temple blocks, cymbals and miscellaneous percussion with wood and metal textures. The part includes a page of instrument descriptions plus a diagram of the setup, and stick and mallet requirements are listed as well.
The opening movement, "Incantation," is free and unmetered. It introduces several of the metallic textures, many presented in five-note groupings or statements. Movement II, "Toccata," is fast and rhythmic, featuring drums and vibraphone. The work closes with a chorale that is slow and stately. The publisher has created a clear, well-designed score with no page-turn problems thanks to attached page inserts. The excellent use of colors and melodic statements makes this work suitable for advanced students or professional performers.


George Frock