5 Bagatelles for 6 Clarinets (Cl i. Eb, 2 Cl i. Bb, 2 Bassett Horn, Bass Cl.) op. 28 (1965)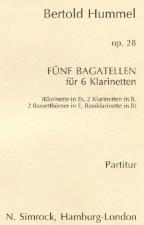 I.

IV.

V.




First Performance:

April 8, 1965, Würzburg, Bayerisches Staatskonservatorium

Dedication: Meinem Lehrer Harald Genzmer in Verehrung gewidmet


Duration: 10 Minutes

Publisher: N. Simrock Hamburg-London (Boosey & Hawkes)
Score: ISMN M-2211-2068-7
Parts: ISMN M-2211-2069-4

A little later, Bertold Hummel experimented with moving in the opposite direction in combining six clarinets together in a block-like structure, producing almost magical effects because of the high capacity of instruments of the clarinet family to melt into each other. His "5 Bagatelles", op. 28, betray their origin. Called to the professorship at the State Music College, Würzburg, - still called at the time of Hummel's appointment the Bavarian State Conservatory - he busied himself immediately with music for practical teaching purposes. In this he showed his spiritual kinship with his model Hindemith, always placing his compositional abilities at the service of practising musicians. Yet even in this piece, inspired by the consonant sonority of clarinets, the mood suddenly changes, and once again a march sounds out! Almost as if obsessed with the military march, as if ironically paralysed by this obsession, Bertold Hummel caricatures the motions of marching soldiers stirred and worked up by drum rhythms. Choosing this means of expressing his inner distance from the lowest levels of trivial and functional music, the composer demonstrates a profoundly pacifist attitude, which is also attested by numerous discussions with his composition students. The title "Bagatelles" was obviously chosen in order to avoid subjecting himself to any structural requirements linked to large-scale forms. Free from obligations regarding exposition and development of themes, he can allow himself to be guided by the characteristic motifs of the music, creating organic forms which can perhaps be best described as "forms of the moment".


Klaus Hinrich Stahmer (in "Die Kammermusik als persönliches Bekenntnis" Tutzing, 1998)

Press

Fränkisches Volksblatt, June, 1970

A complete success for all participants and for the composer was accorded to the composition and interpretation of "Fünf Bagatellen" for six clarinets(1965) by Bertold Hummel. He understands his craft perfectly. His ideas and his inventiveness astonish time and again. Mental discipline, masterly counterpoint, varied concepts in sonority and subtle rhythmical differentiation are combined in an ideal way. Hummel is informed about technique and timbre of a great variety of instruments and in this work makes no unsuitable demands on the understanding of the listener or the capacities of the player.