Ludi a tre für Oboe, Percussion and Piano, op 29 (1965)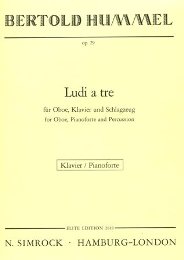 I. Recitative
II. Notturno
III. Danza

beginning


Percussion: Snare Drum, 2 Bongo, 2 Conga, Xylophone, Vibraphone, 4 Templeblocks, African Wood Drum, Claves, Triangle, 3 Cymbals (33, 36 and 40 cm), Sizzle Cymbal, Gong (50 cm)

First performance:

July 14, 1965, Nürnberg, Pirckheimerhaus
Kurt Hausmann / Siegfried Fink / Manfred Dietz



Duration: 18 Minutes
Publisher: N. Simrock Hamburg-London (Boosey & Hawkes) ISMN M-2211-0744-2
The first movement with title Recitative is really a theme with variations in a very free form.
Notturno: a fully notated cadenza for percussion seeks to evoke the impression of a summer night; a lonely melody for oboe supported by sparse chords in the piano sets the mood in the middle section, which leads back into the atmosphere of the beginning.
Danza: progressions with strongly rhythmical elements - superposition of metrical layers - give the movement a dance-like character.
Bertold Hummel

In Ludi a tre, op. 29, I have tried for the first time to treat percussion instruments as partners in chamber music with equal rights. I was encouraged to write this work - like most of my work for percussion - by Siegfried Fink. It was composed and premièred in Nuremberg in 1965.
An atmospheric Notturno is set in the frame of a striking Recitative and a turbulent round dance with the title Danza.
Bertold Hummel
Press
Süddeutsche Zeitung Munic
Bertold Hummel's "Ludi a tre" indulged for the first two movements in strange under-water sounds, until oboe, percussion and piano got a lively bar atmosphere going in the Finale. The jazz finale seems to be in fashion: two movements long the puzzles of the world are brooded on, and at the end, when the ranks are a little broken, one shows that one likes company.
Karl Schumann